Exegete Healthcare International Selected to Represent Small Businesses at Global BIO 2017 Conference 
San Antonio, Texas – June 19, 2017: Exegete Healthcare International executives have been invited by the Office of the Governor for the State of Texas to be part of a small delegation intended to represent small businesses at the internationally renowned BIO 2017 conference.  Over 16,000 biotechnology and pharmaceutical leaders will be attending the 5 day event with representation from countries across the globe.
Texas is home to over 4,000 life science and research firms, and approximately 100,000 workers in the field. The delegation was organized by the Texas Economic Development Corporation (TxEDC) in partnership with the Office of Governor Greg Abbott and Texas Healthcare and Bioscience Institute (THBI).
When interviewed regarding his outlook on the conference, David Tapia, CEO & Founder stated "The rapid growth of the biotechnology and healthcare sector in Texas represents a huge opportunity for international collaboration and potential partnerships for firms seeking to expand their footprint in the industry. We are proud to represent the State of Texas, our firm and our country at BIO 2017 and are grateful for the opportunity."
Exegete Executives have worked in collaboration with the Office of the Governor of the State of Texas and the US Commercial Service representatives to meet dignitaries from embassies in Europe, Asia and the Gulf Cooperation Council (GCC). The opportunity to meet with these parties is intended to build and foster relationships in these regions to spur economic activity and growth.
Exegete Healthcare Participates the U.S. Commercial Service's "Discover Global Markets- Healthcare" in Seattle, Washington
 "Executive to join panel of regional experts to share insights on
healthcare industry market dynamics and trends in the GCC"
SAN ANTONIO, TEXAS, USA – September 15, 2016:  Exegete Healthcare International proudly announces its participation in the Discover Global Healthcare Markets- Healthcare Connections conference, September 14-15 in Seattle, Washington.  The prestigious event is hosting more 300 delegates, US Commercial Service Trade Representatives from 25 countries and buyers from around the world seeking partnering opportunities with USA healthcare related companies.  Ralph Foster II, Exegete's Vice President of Strategy and Development, has been invited to participate as a moderator in a panel discussion focusing on healthcare related market opportunities in the Middle East.  Mr. Foster's presentation will focus primarily on "Healthcare Opportunities in the Gulf Cooperation Council (GCC)."
"Exegete's participation in Discover Global Markets: Healthcare Connections conference demonstrates our commitment to bringing our expertise to the international marketplace. We are facilitating change through cultural brokerage and knowledge transfer to benefit others across the world" David Tapia, CEO & Founder.  The event is especially designed to meet the needs of attendees in a unique two-day format, focused on bringing an understanding of the unique challenges and opportunities that are present when doing business in diverse global markets.
The details of the breakout session are:
Venue: Westin Bellevue
Moderator: Ralph Foster II, VP Strategy and Development, Exegete Healthcare International
Presenters:

Yael Torres, Commercial Specialist, U.S. Embassy, Tel Aviv, Israel
Anissa Lahreche, Commercial Specialist, U.S. Embassy, Doha, Qatar
Maher Siblini, Commercial Specialist, U.S. Embassy, Riyadh, Saudi Arabia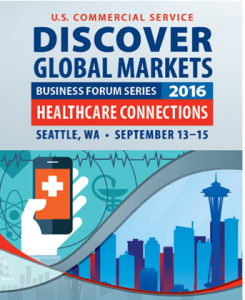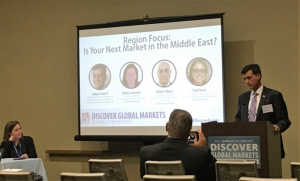 The Dynamic Health Information Technology and Global Healthcare Sectors Lead Exegete to Global Markets
Global Demand for Quality Healthcare and American Management Expertise Leads Exegete to deploy an International Strategy
The Demand for American Healthcare Management Fundamentals and Quality Standards Lead Exegete to International Markets
 "American Healthcare Solutions and Innovations Inspire Multi-National Collaboration to Overcome Universal Challenges faced by the Global Health Sector" 
SAN ANTONIO, TEXAS, USA – September 1, 2016:  Exegete Healthcare International, which has been at the forefront of developing and implementing Health Information Technology (HIT) solutions, formally announces the launch of its international strategy to effectively position the company to provide universal solutions and growth strategies in today's dynamic global healthcare environment.
As a result of healthcare globalization, American healthcare know-how, standards, and expertise are in demand.  The healthcare consulting firm will leverage its existing experience in HIT and alliances it has forged with strategic partners to deliver a comprehensive scope of healthcare solutions that will encompass: strategy and visioning of project concepts, feasibility studies, project development, operations management, and market growth strategies.
In order to position the company effectively to exploit global market opportunities the company has developed a strategy and focused resources on its expansion which include the recruitment of Ralph Foster II, a strategist and business development expert with more than 20 years of international healthcare experience, expansion of advisory service lines, forging new global alliances and launching of a new website.
"We are very excited about the anticipated launch of our new website which will serve as a portal to connect global healthcare partners with Exegete and its strategic partners to deliver customized solutions that are founded on sound planning, proven management fundamentals and a universal perspective that sets a new standard in the industry," said Ralph Foster II, V.P Strategy and Business Development.